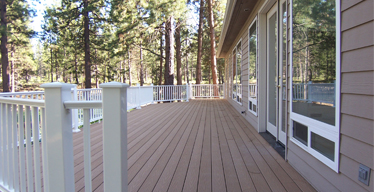 Decks
Decks do more than just expand your square footage and increase your living space. A professionally built deck can increase the beauty of your home, providing an incredible place for making new memories. These additions are highly desirable in the Northwest where the outdoors are a commodity that many people enjoy. As a bridge between a homeowner and the environment at large, a deck built by the experts at Day Dream Builders LLC is your first choice for cost effective outdoor expansion.
Deck Building
Custom decks are primarily made out of wood or composite materials. Both offer distinct visuals and benefits. We can help you determine which choice is right for you. While wood is very affordable and makes for a lower overall cost it is also valued for its beauty. Those looking for a renewable deck with ties to nature, longevity, and earth tones will like the benefits of wood decks.
Composite decks come in both PVC and vinyl varieties. This option is more expensive than wood, but doesn't have some of the drawbacks. Composite materials do not splinter, warp, or rot. They also require very little ongoing maintenance. As a strong, durable option that doesn't need sealing or staining it's great for those who like an easy option that comes in a variety of unique colors.
We can also build awnings, trestles, or covers for new or existing decks, giving you control over shade, sunlight, and the elements.
Deck Refinishing
If you have an existing deck we also provide refinishing services. These can be great for property owners with existing decks that were installed incorrectly, not well taken care of, or have worn considerably with age. We can replace missing sections, sand, stain, and completely refinish your existing deck.
No matter what you're looking for in a deck, installation, refinishing, or additional structural benefits, you'll get professional service and incredible quality when you call (541) 280-9292 or contact Day Dream Builders LLC today.