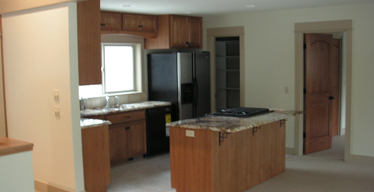 Kitchen Remodeling
Kitchen remodeling is high on the list for many homeowners. As a focal point in many homes, it can be just as important to have a comfortable kitchen as it is to have a comfortable living room. They get used for entertaining, studying, and of course, cooking. No matter what you use your kitchen for, you've got a perfect kitchen in mind. At Day Dream Builders LLC we specialize in turning your dream kitchen into a reality. Depending on your needs and budget, we can focus on a number of areas.
Comprehensive Kitchen Remodelers
Cabinets & Counters – The great thing about about kitchens is how many options you have. We can install new cabinets for your kitchen remodel or refinish the ones you have. Refinishing can give you like new cabinets, and we can even create custom drawers for that unique touch. With a variety of counter top options, nearly every perfectly remodeled kitchen includes a new one. Whether you like the dual purpose and ruggedness of granite, the practicality of laminate, or any other counter top type, we can identify and install the right counter top for you.
Islands and Windows – From gorgeous bay window installations that open up the space to insulated double panes, we can change the way you see the world. New windows can bring in light and provide economical benefits as well. Islands are a great way to break up space. We frequently install cutting board style islands, bar style islands, and burner islands. They can really open up a kitchen and expand what may seem like limited space.
Flooring and Lighting – If your ideal remodeled kitchen needs new flooring, we're happy to oblige. Our kitchen remodeling technicians are adept at the correct installation of hardwood flooring, tile, durable vinyl flooring and more. Lighting can be a great way to highlight and brighten any area. We've provided homeowners with everything from chandeliers to adjustable mood lighting on a timer system.  Kitchen remodeling should leave you feeling like your kitchen is the only one like it, and that's where we excel.
When you want kitchen remodeling that meets your every need, call (541) 280-9292 or contact Daydream Builders LLC.